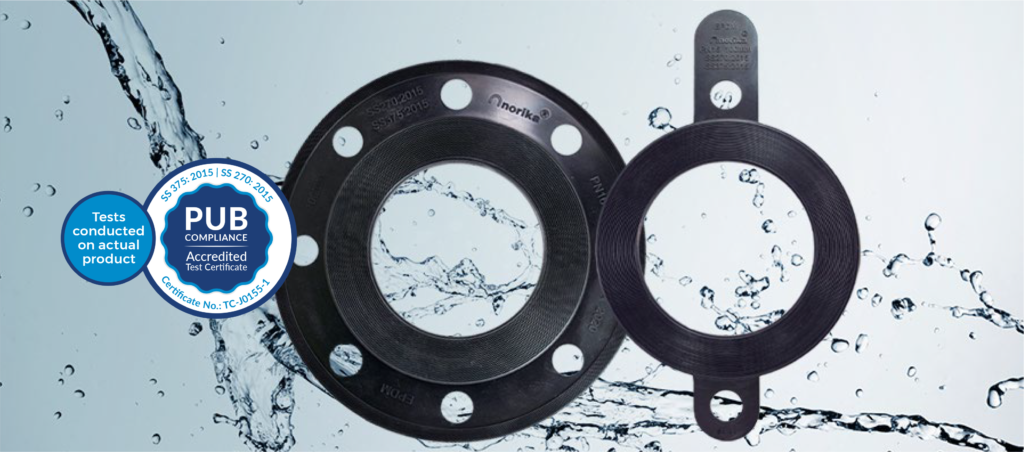 Rubber gasket, as the name suggest, is a rubber (elastomeric) seal used to prevent liquid leakages and to seal gaps between two fixed surfaces of metal flanges or other connectors.
NORIKA® full faced rubber gasket (SKU: RFGN-PUB-F) and the newly re-designed (SKU: RFGN-PUB) can be used for various operating conditions under different temperature and pressure. The operating temperature ranges from -15°C to +85°C while it can withstand PN16.
However, the cost of the full gasket that meets the PUB's latest requirement (SS 375:2015 & SS 270:2015) would be very high. In order to remain competitive, we have invested in R&D to discover that rubber gasket is only required at the inner raised face of the flanges which would result in optimum gasket size that is cost effective for use.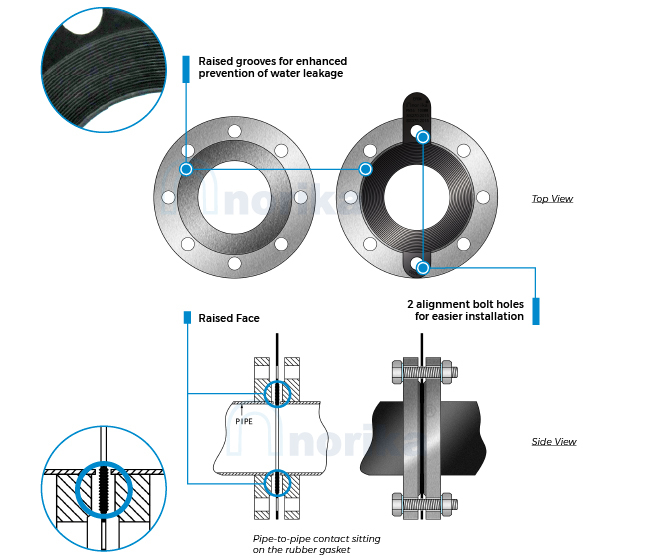 Hence, we have re-designed the new NORIKA® rubber gasket (SKU: RFGN-PUB) with only two holes to bolt the gasket. Excess rubber material can be dispensed with, without impacting its hydraulic performance. This allows for the rubber gasket to be more affordable and easier to install. This new design, like its full faced counterpart, has passed both the required hydrostatic and durability testing.
Singapore's Public Utilities Board (PUB) takes a serious view on the safety and reliability of our potable water supply. Therefore, they require that all rubber gaskets to be fully tested and supported with a complete set of accredited test report before they are allowed for supply and installation in Singapore.
All rubber gaskets intended for potable water use shall comply with the PUB's stipulated standards and requirements. PUB enforces stiff fines and penalties to anyone who does not adhere to their requirements.
PUB requires SS 375: 2015 to be tested on finished product only (Not on a sample material).This is to test the suitability of non-metallic material in contact with water intended for human consumption with regards to their effect on the quality of the water. This will ensure that the materials used to manufacture the rubber gaskets are not harmful and will not contaminate the drinking water. This test is especially carried out as it includes odour and flavour test, growth of aquatic microorganisms, cytotoxic test etc. This test will take up to 12 weeks to be completed.
SS 270: 2015 is the second test to comply. It is applicable for all elastomeric seals for joints in pipework, pipelines, water fittings and valve seats. This standard test the physical properties of the rubber gasket material such as its hardness, tensile, elongation at break etc.
PUB also requires that suppliers need to ensure the traceability of the rubber gaskets that are being supplied for potable water use, and to maintain and keep proper records of the distributors, retailers, sellers, plumbing companies, Professional Engineers, Licensed Plumbers and any other persons/companies as well as the batch identification of the gaskets.
NORIKA® Rubber Gaskets (SKU: RFGN-PUB and SKU: RFGN-PUB-F) comply with both PUB's latest requirements on SS 375: 2015 and SS 270: 2015. The actual testing of SS 375: 2015 conducted by both TUV SUD PSB Pte Ltd and Setsco Services Pte Ltd, supervised, and witnessed by PUB officers.
SS 270: 2015 was tested by Singapore Test Lab Pte Ltd. All tests were carried out by accredited testing laboratories in Singapore.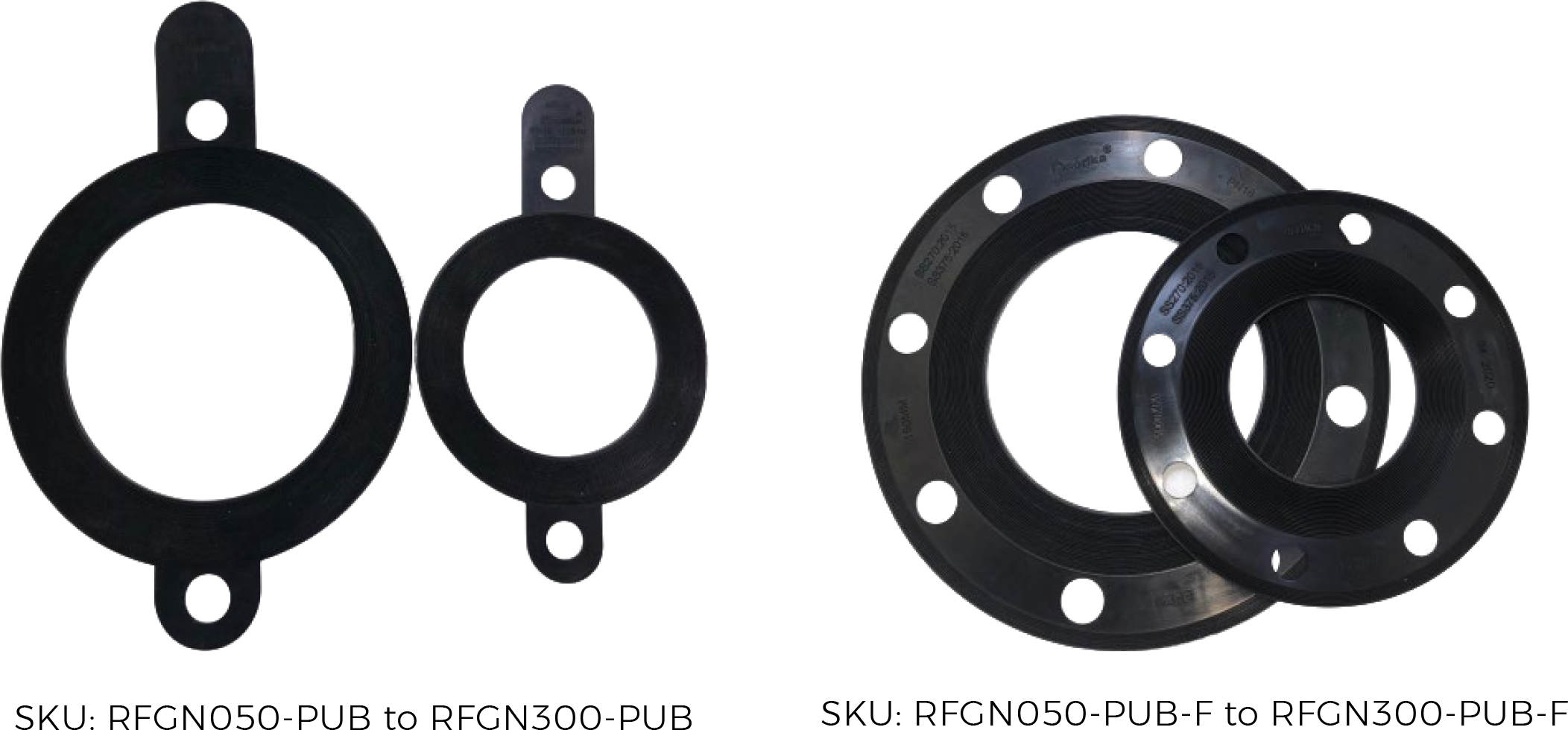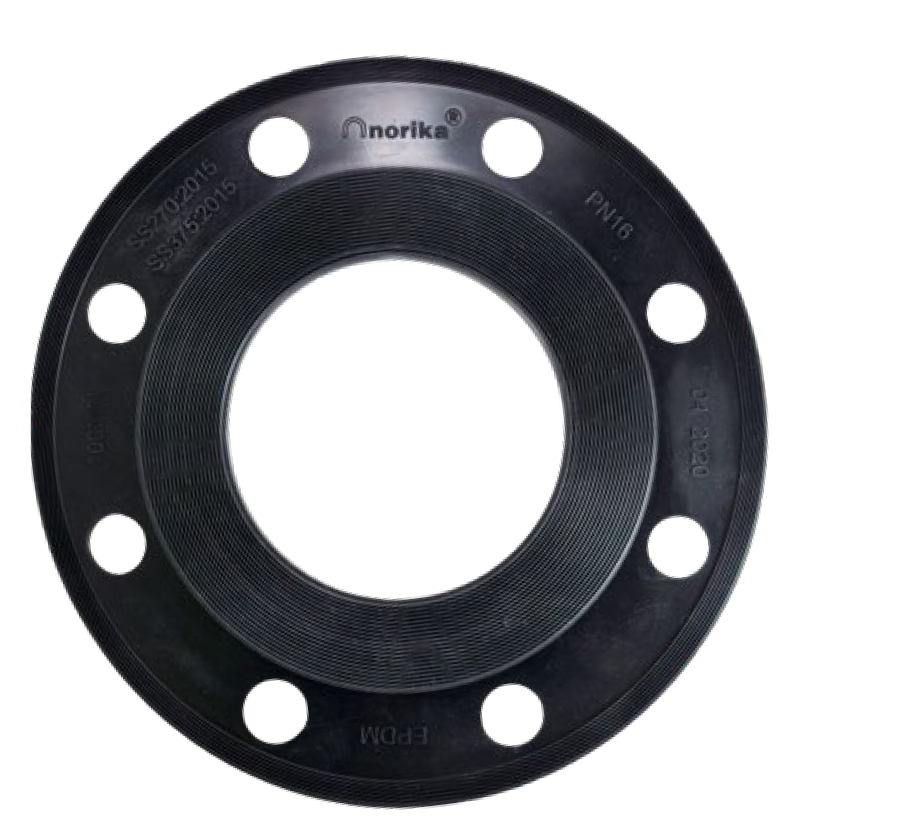 Full Face Flange EPDM
Rubber Gasket
(Complies with PUB's requirements for potable water use)
SKU: RFGN050-PUB-F to RFGN300-PUB-F
Comply With SS 375:2015, SS 270:2015
Available types:
– (50mm)
– (65mm)
– (80mm)
– (100mm)
– (150mm)
– (200mm)
– (250mm)
– (300mm)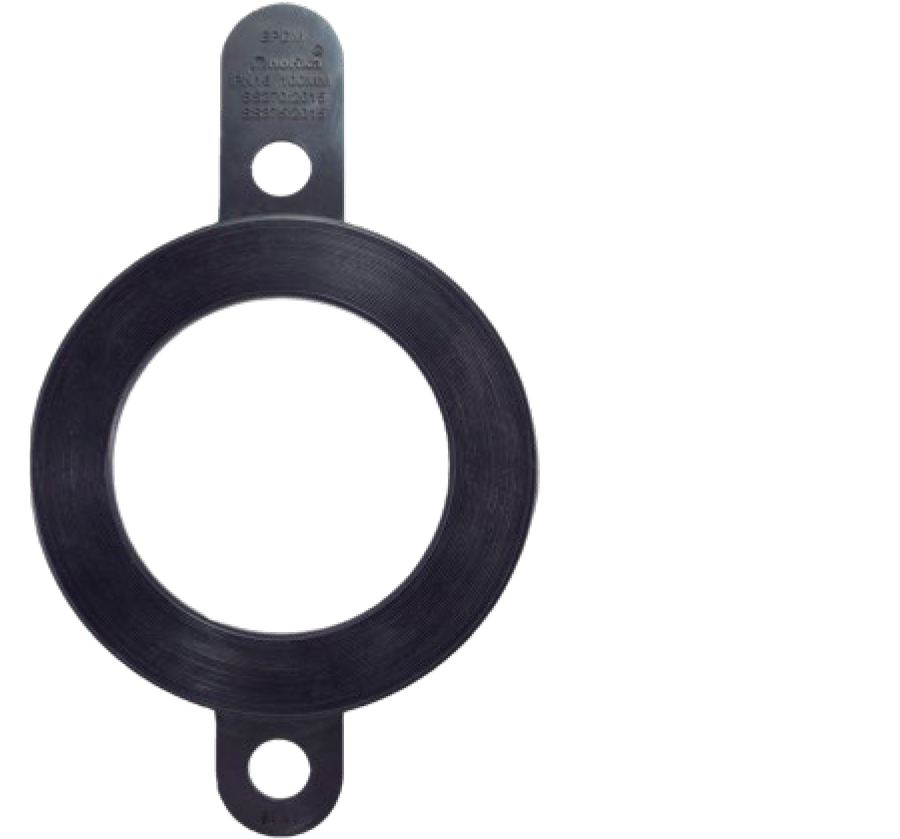 Designed EPDM Flat Rubber Gasket With 2 Alignment Bolt Holes
(Complies with PUB's requirements for potable water use)
SKU: RFGN050-PUB to RFGN300-PUB
Comply With SS 375:2015, SS 270:2015
Available types:
– (50mm)
– (65mm)
– (80mm)
– (100mm)
– (150mm)
– (200mm)
– (250mm)
– (300mm)